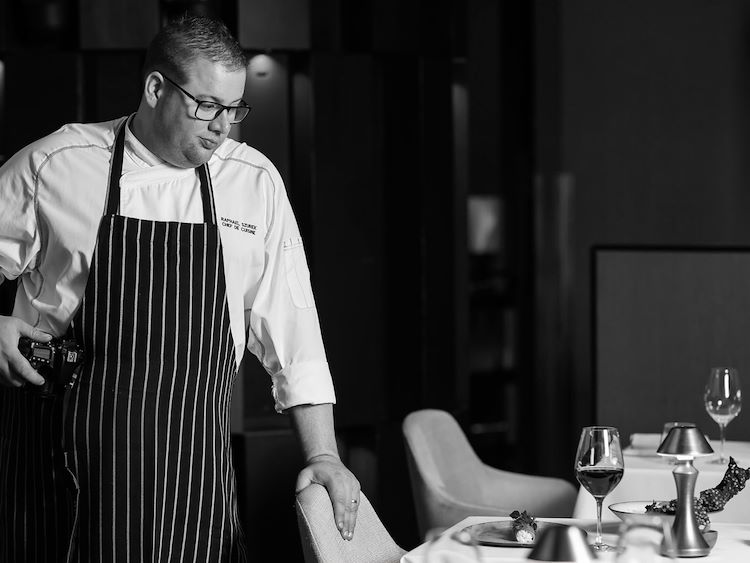 Raphael Szurek. Chef, creative, explorer.
Our extraordinary French Chef de Cuisine was trained under renowned Lyonnais chef Paul Bocuse himself; having completed a Culinary Arts and Hospitality Management Degree and Bachelor of Hospitality and Restaurants Management at the Paul Bocuse Institute and Lyon 3 University in France.
He was also brought up in a multi-generational foodie family, with his grandfather being a butcher and his father too being excellent in the kitchen. Raphael donned his chef's apron at the 3 Michelin Stars, Four Seasons Hotel George V before gaining further experience at 3 Michelin Stars, Le Grand Vefour and Fauchon.
He further mastered his craft across innumerable restaurants in Europe and Asia, including China and Vietnam, where he was the Chef at the awards-winning French Grill restaurant at the JW Marriott Hanoi.
This allowed Raphael to pick up and fuse global techniques and multicultural flavors into his uniquely signature style. He brings this style to life through fresh, sustainable, and quality local produce as well as specialty (and often rare) ingredients.
Raphael also dons the hat of an educator, with a strong focus on training and developing his team members and having taught public masterclasses on his style of the culinary art.
In addition to the above, he is a stellar food stylist and photographer, as well as being trained in both classical and jazz music. Raphael brings this creativity, structure, and improvisational skill to his recipes, techniques, and presentation alike; having had his food described as "works of art."
Come and experience his menu today.