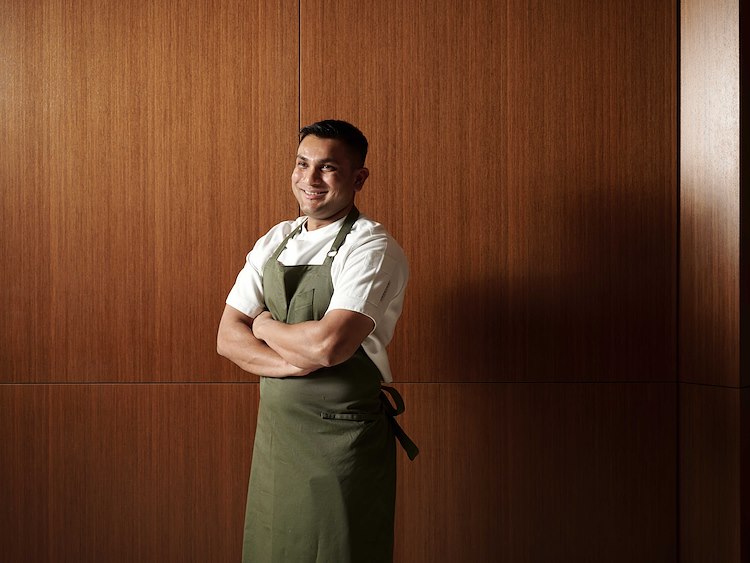 Abhi Dey, Head Chef
With over 13 years' experience working across some of the world's most prestigious Michelin-starred and hatted restaurants, Abhijit Dey from an early age was determined to prove himself.
After finishing high school in his hometown of Kolkata, India, he credits his parents for encouraging him to enroll in culinary school, which set the trajectory of his professional life in hospitality.
"It didn't take long to realise my future was in food and I soon became that guy with posters of Gaggan and Gordon Ramsay on my bedroom wall," he says.
Abhi moved to New Zealand in 2012 to further his training at NSIA, New Zealand's leading culinary and hospitality academy. Upon graduating, he honed his skills in some of Auckland's most prestigious kitchens, firstly with Mark Southon at The Foodstore before moving on to Clooney and, later, Orphans Kitchen. He also did a stage at Michelin-starred Gaggan in Bangkok in 2018 when it was named Asia's top restaurant according to the World's 50 Best Restaurants.
He subsequently snared prestigious positions at Harbour Society, the flagship restaurant of chic boutique hotel SO/ Auckland by Sofitel, and later at The Sugar Club at Skycity where he was Head Chef after the departure of the chef and founder Peter Gordon. During this time, Abhi won S.Pellegrino fine dining lovers' food for thought award 2020 - 2021.
During his time in Auckland he did deep dives into New Zealand's edible native plants and their use in traditional Māori cookery, establishing an occasional pop-up series as a testing ground for his innovative ideas, marrying New Zealand and Indian cooking. Abhi brings this focus for using the finest local produce to his role as head chef at Silvester's.
Abhi describes his cooking style as contemporary, progressive cuisine. "I'm inspired by local producers and artisans and the cultures in which I'm working. Coming to Australia, I am inspired by the landscape and incredible produce that is abundant here and I am looking forward to showcasing this on the menu at Silvester's."
He says the most important thing he has learned throughout his career so far is the importance of a nurturing a collaborative environment for chefs and front of house to work together in order to bring a shared vision to life.